Program Description
All kinds of industries need creative minds to bring ideas to life. Animators, Multimedia artists, Special Effects artists, Creative Directors, and others put their skills and imaginations to work everywhere from film and TV to medicine, engineering and law. If you have the talent, passion, and tenacity to follow that career path, Digital Media can prepare you for a life of doing what you love!
You will utilize today's most cutting-edge design software, including the latest versions of Adobe® Creative Cloud and Autodesk® software, to design and build engaging user-friendly websites, print and typographic layouts, to animate motion graphics and 3D objects, and to create interactive media projects in a collaborative environment.
Have you dreamed about animating characters, objects, or even vast landscapes? In Digital Media, you will gain the foundation of traditional art and animation principles, create digital characters, objects, and environments, and study motion capture.
3D design and 3D printing skills are already valued resources in industries like engineering, medicine, architecture, art, design, and more. Digital media students can design and 3D print a new game controller, explore the science of aerodynamics, engineer the next solution solving product and much more because the opportunities are limitless.
More Information
If you would like more information about the Digital Media program please contact Simone Lawrence at slawrence@sanilacisd.org
AP Computer Science Principles
AP Computer Science Principles(CSP) is a college board advanced placement class with allows students to take the AP exam upon successful completion of the CSP course work. This means potential college credit (dependent on individual college and score)
Computer Science Principles covers lots of topics. Not just programming and coding we cover bits and binary, we cover how the Internet works, how security works, how data is collected and used and shared. And all of these things help you get a better understanding of how the world works.
In the new economy computer science isn't an optional skill, it's a basic skill.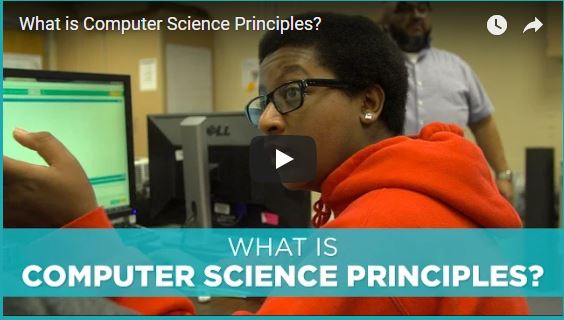 Visual Thinking
Design Elements & Principles
Storyboarding
Computer Imaging
Observational Drawing
Creative Drawing and Sketching
Two Dimensional Design
HTML
CSS Coding
Java-script
Interactive Design
Multimedia/Web Production
Digital Marketing
Web Art
3D Animation
Modeling, Materials and Lighting
Character Animation
Game Design Art
Video Art
Motion Media Design
Video Editing
Connecting Digital Media to STEAM
5 Advantages to a Web Design Career
Feed your creative side. From graphics to color schemes, website design jobs let you use artistic skills in your day-to-day work. Web designers have an excellent aesthetic sense and are detail-oriented in their design approach.
Work on the Web. Who doesn't love the Internet? Being a Web designer enables you to not only work with websites every day but also to shape the way people interact with the Web. The Web is always exciting because the industry changes frequently—best practices emerge and are fine-tuned, trends take hold and technology updates.
Use sophisticated technology. If you enjoy using computers and design software, then Web design jobs will provide the opportunity to do so. And you won't get bored working only with design software, because Web designers typically need to know HTML, CSS and Java-script.
Be independent. Although many designers work in-house for large organizations or are part of a design firm's staff, there are also many opportunities to work for yourself.
Work in a growing industry. Every company needs a website and wants to keep it looking current, which puts web designers in high demand. Employment for web developers, is projected to grow 27% from 2014 to 2024, which is much faster than average for all occupations.
STEAM
Students explored many exciting projects that integrated STEAM (Science, Technology, Engineering, Arts and Mathematic) into their Digital Media projects.
Building and flying drones
Designing 3D printed objects
Understanding gravity and friction in 2D and 3D animations
Game programming
Scaling models for real world applications
The 2018-2019 school year promises new opportunities for students to explore how STEAM influences Digital Media. A couple of projects planned are video capture from the drones and designing and printing of drone modifications
3D Animator $63,970
Art Director $89,760
Traditional 2D Animator $63,970
Web Designer $64,970
Layout and Background Artist $40,135**
Character Designer (Entry Level) $48,518**
Graphic Designer $46,900
Mixed Media Animator $63,970
Motion Media Designers $68,440
Broadcast Designer $68,440
Creative Director $89,760
Web Master $64,970
Stop Motion Animator $63,970
Storyboard and Concept Artist $93,300 **
Teacher/Demo Artist $57,200
Video Game Designer $63,970
*All career median salary information is courtesy of the U.S. Bureau of Labor Statistics (BLS)
** Salaries are from ZipRecruiter.com national average
Industry Certifications
Adobe Photoshop ACA Exam
Adobe Dreamweaver ACA Exam
Adobe Animate ACA Exam
Autodesk Certified User Exam
CIW Site Development Associate
Certified Web Designer Apprentice
For College Bound Students
The courses provide students with skills to use while financing a college education. Students may be eligible for articulation with a "B" average or better, from Davenport University, St. Clair Community College, Delta College and Baker College.